Store Locator: the key tool for your local development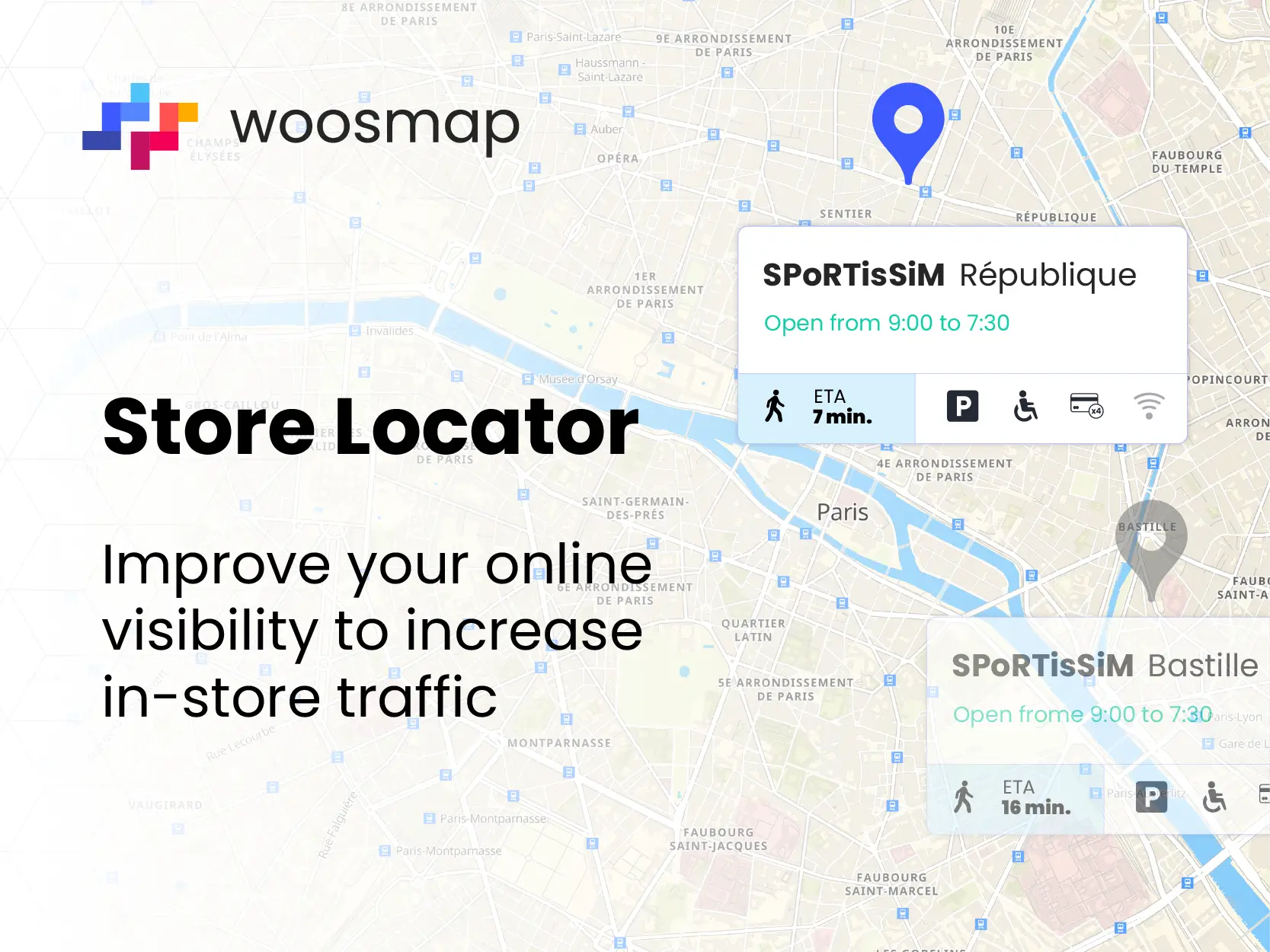 Are you looking for ways to improve your online visibility, while optimising the customer experience and in-store traffic? The Store Locator is the tool you're looking for! 

Nowadays, most businesses have an online presence and offer e-commerce services to make shopping easier for their customers. However, it is important not to neglect the physical experience by adopting the BOPIS (Buy Online Pick up in Store) and ROPO (Research Online, Purchase Offline) concepts. According to a study conducted by Criteo, 60% of consumers buy online and pick up in store, and 77% research online before buying in store.
Additionally, according to Google data, "open now nearby" searches have increased by 400% across the globe.
This is where store location solutions called Store Locators become essential for businesses. By allowing customers to find the physical stores closest to their location, retailers can, amongst other things, increase their visibility, attract new customers, and improve the shopping experience at the point of sale.
In this article, we will explore the 7 reasons why opting for this very specific tool from the Locators family is beneficial and essential for an omnichannel strategy.
What is a Store Locator?
Store Locator definition
A Store Locator tool is integrated into a website or app, allowing users to easily and quickly find the location of a store, point of sale, or service on an interactive map. This tool is essential for companies with multiple points of sale, as it allows customers to find the place closest to their current location, home, or workplace.
---
---
Applications in different sectors
When we talk about Store Locator and physical locations, we initially think of retail and mass distribution, but its use affects many other sectors:
Catering: In order to satisfy their customer's appetite, fast food chains must allow their customers to quickly find the restaurant closest to their location.
Finance and insurance: banks, credit unions, financial services companies, insurance companies, etc. can use a Store Locator to help find their nearest branch or ATM.
Automotive: With the Store Locator, car dealerships and garages can help their customers find the nearest show room to test drive a car before buying or have a vehicle repaired.
Hospitality: The user must be able to locate and filter hotels located close to their area of interest.
Delivery Services: Parcel delivery companies can use a Store Locator to help customers find the nearest pick-up point to their home or workplace.
These are just a few examples among many others. The Store Locator adapts to many sectors and our Woosmap experts will be happy to advise you on how it can best be used to support your business. Contact us !
---
---
Store Locator essential information 
For a Store Locator to be effective, it must not only give the position of a physical point on a map, but it must also share essential information about the point of sale, including:
brand name and logo;
the full address of the shop;
opening hours;
contact information (telephone, email address, instant messaging, etc.);
available collection methods (Click & Collect, Drive, etc.);
a call-to-action button (booking, making an appointment, etc.);
parking facilities near to the point of sale;
customer reviews;
search filters to find a specific point of sale (currently open, collection method, product sought, etc.);
real-time distance calculation and best route to get to the location.
This last point, which is extremely popular with users, allows customers to quickly find out how to get to the shop, without leaving your website. This is thanks to our Distance API tool which is integrated into the Store Locator. Providing all this information facilitates the Internet user's decision-making process by considerably accelerating the customer journey and improving the user experience on your platform.
Now that you better understand what a Store Locator is, let's explain why this tool is essential for your business. 
---
---
Benefit #1: Improving the Customer Experience
To save him time and energy, users must have access to the information they are looking for as quickly as possible, two essential criteria for a successful customer experience. A customer who does not have the opportunity to check the opening hours of a store and finds themselves in front of closed doors will be frustrated and disappointed.
Lack of information is a sticking point that slows down the buying process and has a negative effect on customer satisfaction. 
---
---
Benefit #2: Increasing in-store traffic
A point-of-sale geolocation service makes it possible to increase in-store traffic by developing different hybrid routes:
Web-to-store: the user searches for a product online and then goes to the store to buy it. Note that 80% of customers adopt this O2O (online-to-offline) journey.
Drive-to-store: the customer is encouraged to go to the nearest store through personalised geomarketing campaigns for example.
App-to-store: view the desired product on an app before going to a physical store to purchase. 
Benefit #3: Increasing Sales
The main factors that encourage purchases are, first and foremost, the availability of products (66% of respondents), accessible in particular thanks to a Product Locator, followed by location. 60% of consumers indicate that the proximity of the store is a key factor in making a purchase, whether directly in the physical shop or using a Click & Collect service. It is a major element of reassurance.
Similarly, a study by Google shows that the average buyer visits a dealership twice before purchasing a new vehicle. Allowing the customer to quickly find a nearby garage to facilitate their purchase journey is therefore essential. 
---
---
Benefit #4: Efficiently Managing Point of Sale Information
Do you have a dozen new outlets across your network? With a Store Locator, you can add this new information in a few clicks thanks to a centralised database, and thus optimise your Presence Management.
In addition, same-brand stores do not necessarily have the same opening policies on Sundays and public holidays. The Store Locator allows you to personalise each store listing and display information which is updated in real time.
Are you planning an exceptional closure for a few days at a specific store? In the same way, you can display this essential information on the store sheet concerned and thus prevent dissatisfied customers from finding themselves in front of closed doors.
---
Benefit #5: Improving Online Visibility
The Store Locator is essential for improving your local referencing or SEO (Search Engine Optimisation). A good local SEO aims to feature amongst the top positions in search engines, and therefore offers better online visibility.
For example, by publishing dedicated web pages for each shop and including location-related keywords, it will be easier to be well referenced for local searches such as "Marks & Spencer Cambridge" or "insurance London".
---
---
Benefit #6: Getting to Know Your Consumers Better
The Store Locator allows you to collect valuable information about customers and thus adapt your offer. Indeed, you will be able to measure which are the most often searched stores and which generate the most leads by analysing the number of clicks on the telephone number or reservation button, the point-of-sale route calculation, etc.
By collecting data on the searches carried out by your customers, you will know more about the geographical areas where they are located and thus personalise your marketing offers, and even adjust your stocks according to demand.
---
---
Benefit #7: Reducing customer support costs
If all the store information is displayed on your Store Locator, the user no longer needs to contact you to find out if the store is open on such a day at such a time, or to find out what collection method you offer.
As a result, you can significantly reduce the number of calls, and therefore customer support costs.
---
---
The benefits of a Store Locator for the user
Now let's focus on the benefits for the main stakeholders: your future customers.
Easily locate nearby physical points of sale.
Obtain precise information on the locations (contact details, address, opening hours, offer, route to get there, etc.).
Enjoy an optimal customer experience.
Facilitate decision making.
Follow the best route to the store in real time.
Save time and energy.
Reduce your delivery costs by picking up your order in store.
Limit environmental impact by favouring a pickup service. 
 
The Woosmap solution
As you will have now understood, the Store Locator is a must-have for all companies wishing to strengthen the physical-digital connection during the customer journey.
To support you in this strategy, Woosmap offers you a powerful and ready-to-use Store Locator.
Amongst its features:
Customisation of store sheets, so they are aligned with your brand identity, and improvement of your SEO.
Automatic geolocation to centre users in the middle of the map and display the nearest points of sale around them with the correct zoom level.
-A powerful API that allows you to display thousands of locations quickly for smooth navigation.
The calculation of the distance and the best point-of-sale route without leaving the website.
Auto-completion to speed up the customer journey.
Advanced store search by catchment area or around a particular route (corridoring method).
Filters to refine searches (services available, open now, etc.).
Call-to-action buttons to encourage users to make an appointment or leave a review for a specific point of sale.
15 languages ​​available: French, English, Spanish, Catalan, German, Italian, Portuguese, Brazilian Portuguese, Russian, Chinese, Japanese, Ukrainian, Hebrew, Polish, Croatian.
Real-time information updates for thousands of establishments thanks to a centralised database, or the modification of a single POS (in 1 click) with the Woosmap console editor.
Connectors to standardise your information on various platforms (Localistico, Partoo, Yext, etc.) and optimise your Presence Management.
Quick and simple implementation thanks to our Store Locator Widget, or La Lib for more freedom on the final result.
The Store Locator - a must-have for your business
The cornerstone of a good web-to-store strategy for all companies with physical locations (retail, mass distribution, bank, insurance, restaurant chains, etc.), the Store Locator facilitates the arrival of customers in stores. However, it has many other advantages.
---
An essential growth lever for your online visibility, the Store Locator allows you to win over those Internet users who make up the 25% of daily Google searches that contain a geolocation element. It is a key element of local marketing.
Finally, don't stop there. To personalise your customer's experience even more, guide them to their desired item inside the shopping centre using the Indoor Mapping feature.
---
As you will have already gathered, integrating a Store Locator into your business is essential to remain competitive. To learn how we can implement our innovative technologies into your business strategy, tell us about your project!
If you'd like to know more, read our Greene King customer case study. We helped them transform their businesses thanks to our easy-to-implement geolocation APIs.