Product Locator: 7 reasons why every business needs it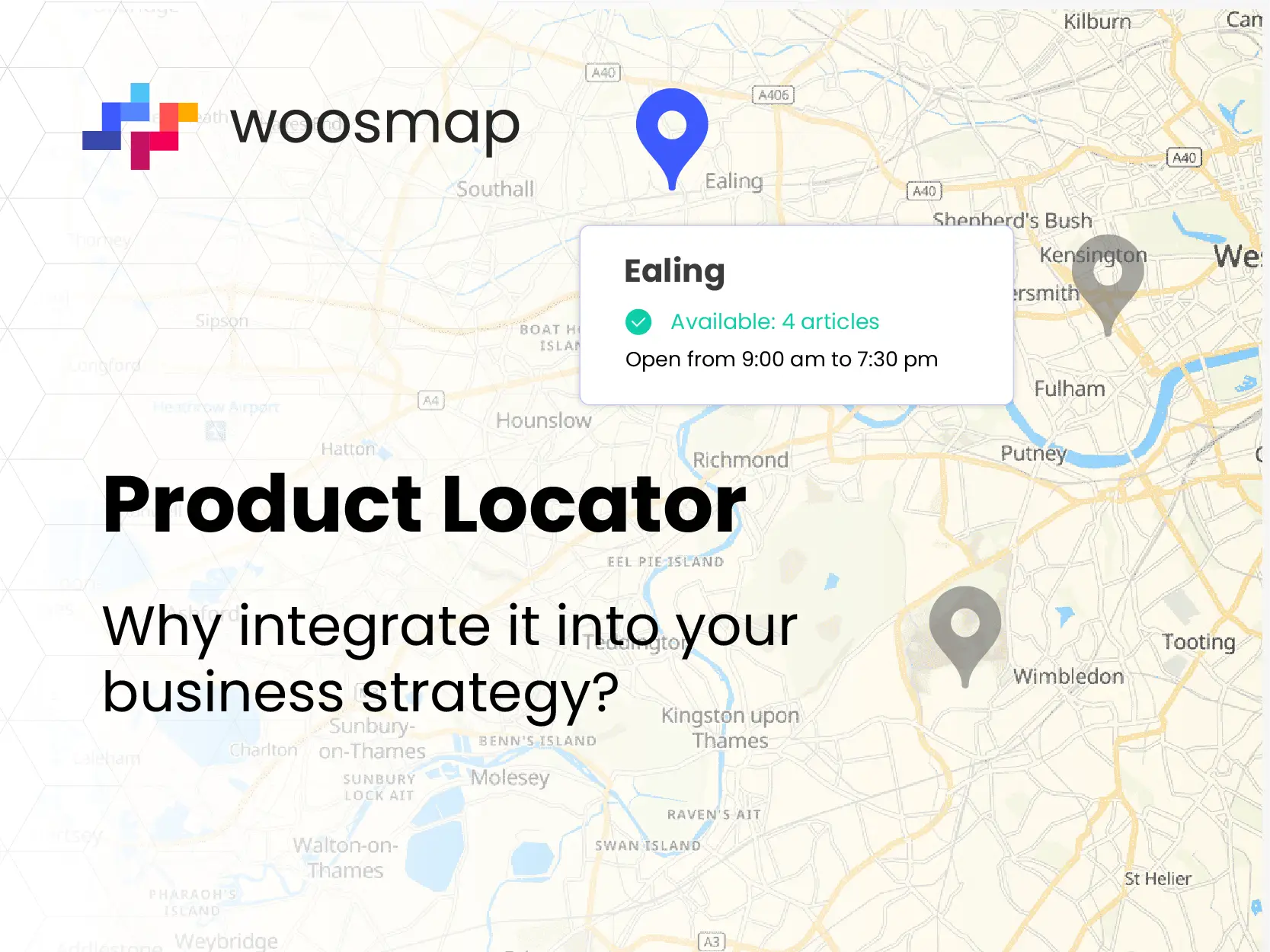 You've spotted some running shoes on the Decathlon website, but you don't want to wait for home delivery. So, instead, you decide to go to the nearest store to buy them straight away. Unfortunately, when you arrive you're told that this particular pair is no longer available in your size... You go home empty-handed and feel somewhat deflated that you've wasted your time and energy. As for the retailer, well....they've lost a customer.
---
But such a scenario is now a thing of the past.
---
Nowadays, in a world where digitalisation has become a pre-requisite for companies seeking growth, technologies have emerged to ensure the ultimate in customer satisfaction.
---
You probably already know these technologies, in fact you probably use them on a daily basis, as do the general public. We're referring to Locators, tools that allow everyone to find the service or product they're looking for within a reasonable distance on a map. 
---
In this article, we're going to be talking about a very specific type of Locator. One which increases 'add to basket' activity by 15%, improves the conversion rate of the checkout page, and Decathlon stores coming out of the COVID pandemic to be able to say "we've increased our digital revenue by 30%"... It's also one which allows customers to find the pair of shoes they're looking for, in the size they want, in a store close by.
---
This tool is called the Product Locator.
---
So, what exactly is it and what benefits can you expect? Allow us to tell you about the seven reasons to use a Product Locator to improve your business performance.
---
---
What is a Product Locator?
First of all, before going into too much detail, a simple definition is in order.
A Product Locator is an e-commerce website tool that allows you to check the availability of a product nearby. More often than not, it provides information on stock availability in the nearest store to the user.
---
Large distribution outlets and retail stores are usually the first things that spring to mind, but its use can also benefit many other sectors. By way of example:  
Hospitality: Where can I find an available hotel room close to where I want to stay?
Automotive: Which nearby car dealer has available stock for the vehicle I want to buy?
Service: My elevator is broken, where can I find an available repair engineer nearby?
Transport: the Santander Cycles hire outlet next to my house is empty, where is the nearest outlet with bikes available for rental?
Now that you know a bit more, let's get down to business: why should you incorporate a Product Locator into your business strategy right now? 
 
Reason #1: Improve the Customer Experience
As mentioned in the introductory scenario, a customer who wastes time and energy is a dissatisfied and frustrated one.
---
Using a Product Locator helps the user locate the nearest store that has the product they want in stock. Their customer experience will be undeniably improved because they can, if required, try the product before buying, receive personalised advice from the sales staff, or simply save time and money by collecting it using a Click & Collect service.
---
And for an even better experience, the use of a Store Locator also ensures quick access to information. As a result, with just a quick glance, the user can know the opening hours of the store, the available collection methods (in store, drive, or delivery), and how to get there, etc.
Reason #2: Increase in-store traffic
Businesses can have difficulty enticing customers to visit physical venues because they may not always be able to find a store that has the product they are looking for in stock. This can lead to lower store sales and the loss of potential customers.
---
Did you know that 80% of customers research a product online before going to a physical store?
---
Using a Product Locator on your website encourages customers to visit the store because they can quickly see where the product is available. On the spot, you will have more chances to convert browsing into sales. This will increase sales and brand awareness.
---
---
Reason #3: Collect useful data
Without geolocation, it is difficult for companies to obtain precise information on the location of users and the most popular products according to different regions.
---
---
Integrating a Product Locator into your commercial strategy allows you to adapt your offer and promotions according to the most sought-after products and the stores most often located near to users, and therefore ones which are more likely to be visited.
---
For example, a fast-food chain can adapt its menus locally according to the data collected from the food trends of the different restaurants. This allows the company to put forward offers adapted to local tastes and therefore increase turnover.
---
Good to know: Woosmap does not collect user data. The information passes through our servers for a few seconds while being processed, and then disappears.
Reason #4: Increase your conversion rate
An e-commerce site that works well is a site that offers a quick purchasing journey. Navigation must be fluid and intuitive. The faster the user finds the product, the more likely it'll be converted into a sale.
The Product Locator speeds up the purchase journey by directly displaying the right information ("what?" and "where?"). Add an autocomplete tool on the checkout page to speed up the process even more, and your sales will most certainly skyrocket.  
This is the case for Accor Hotels (ALL.com), which managed to increase its conversion rate by 17% using geolocation to personalise the customer journey. We are delighted to have been able to contribute to this by hosting all their locations on our platform.
It was a similar story at Boulanger, who, thanks to our Product Locator, increased their number of "add to basket" button clicks by 15%.
---
---
Reason #5: Improve inventory management
Without the right tools, it's not easy to manage your stocks efficiently and know the location of products in different warehouses or points of sale. This can lead to unnecessary storage costs or stock shortages.
By monitoring product searches using a Product Locator, you can better understand trends and customer needs to adjust inventory at different outlets accordingly.
During the repeated lockdowns, many of us discovered a passion for interior decoration or started dabbling in small craft projects. DIY stores had to deal with high demand and manage stock shortages. This complicated shopping journey led to a loss of customers and a high rate of shopping basket abandonment.
Using a Product Locator, Woosmap supported Kingfisher, one of the three largest DIY retailers in the UK, to address these inventory management issues. 
---
---
Reason #6: Adapt your offer displays based on user location
If your company is deployed nationally, or even internationally, the price of your offers no doubt differs from one area to another, and from one country to another. But how do you adapt your offer display if you aren't able to geolocate your customers? They may be somewhat surprised if they go to the store only to find that the prices are not the same as listed on your website.
To avoid unpleasant surprises, or basket abandonment in areas that are not served, the Product Locator is your best ally. By detecting the position of the user in relation to the product sought, it will be displayed correctly.
This even allows clients to buy online, while being on site, ensuring that the right prices are displayed according to their geolocation.
For example, at Tesco, a bunch of leeks does not cost the same in London as in Yorkshire. This is why the supermarket must know the position of its customers in order to be able to display the right prices.
 
Reason #7: Reduce customer support costs
That customer who failed to find their dream shoes at Decathlon could have easily called the store directly to find out if they were in stock before visiting the store in person. But that in itself can pose problems: it requires shop floor staff to answer the phone and check the product aisles to see if the product is available. Consequently, the member of staff concerned has less time to devote to advising and closing sales with in-store customers.
---
By using a Product Locator, people have an online overview of available stock in real time. Your business can therefore reduce the number of incoming calls, and subsequent customer support costs, as well as improve the availability of shop floor staff.
The benefits of a Product Locator for users 
We can't do the Product Locator justice without discussing its benefits for the main stakeholders: your customers. The benefits for the user are often correlated with those for the company.
Enjoy an optimal and personalised customer experience.
Reduce search time.
Find the nearest store offering the desired product.
Save time and energy.
Save money by avoiding home delivery.
Get the product faster directly in store.
Ensure product availability in real time.
Limit environmental impact by favouring a Click & Collect service.
Compare prices to play the competition. 
Wossmap's solution
A powerful Product Locator 
To support you in your digital growth journey, we have created ready-to-use tools that support the huge peaks in traffic that your product pages may experience.
For example, during the recent fuel depot strike, the TotalEnergies site experienced a phenomenal increase in traffic (a 1000% increase over 2 days). Yes, your instinct was probably exactly the same as the majority of other car drivers: finding the nearest petrol station with available fuel. Thanks to our high-performance Woosmap Store Search API, the website did not bow under the pressure, and we were able to meet the high demand.
---
Automated localisation
Our unique tool on the market provides the exact location of the user's IP address. By automating customer localisation using our Woosmap Geolocation API, you speed up their purchasing journey and subsequently increase your conversion rate.
---
Our Product Locator arranges the delivery areas according to postal code and makes it possible to link the catchment area with the Internet user's search. You can then assign it to the right store and display the correct prices, as well as the available stock and different withdrawal methods.
 
A business model adapted to your needs
For example, well aware that product pages can generate a high number of requests, we have adapted our prices so you don't have any unpleasant surprises in the event of traffic peaks. With Woosmap, there are more opportunities for innovation and expansion in line with your budget. Do more by spending less!
Product Locator: it's time! 
Back in the day, we looked for store information in the Yellow Pages. Those who had the vision to digitise this process through a Store Locator feature got ahead of the competition and generated more traffic at the point of sale.
---
Similarly, those who had the vision to link the customer's location with that of available stock (using a Product Locator) won the sales race by accelerating the digitalisation process. This was particularly true during the pandemic. The consumer is now educated to use these kinds of tools, in fact, they now expect to.
---
This has made all the difference, especially when we take the example of a store that announces "a 30% increase in digital revenue" at the end of the lockdown period, compared to others which had to announce "the closure of stores and a 50% decrease in turnover".
As you will have probably understood, integrating a Product Locator into your business brings many advantages. And if you want to progress even further, be visionary and personalise the in-store experience using Indoor Mapping. This will guide in-store consumers directly to the product they're looking for.
---
Tell us about your project and find out how our innovative technologies can be integrated into your business strategy!