Geocoding & Reverse Geocoding
Real-time Geocoding: locate an address and format it correctly
Need to position a postal address on a map or retrieve the positions of your addresses?
---
Get the exact latitude and longitude of a city, a postcode or a full or partial address, along with its level of accuracy, or retrieve a human-readable address from a latitude and longitude.
---
You can also retrieve formatted addresses and, in addition, the component parts of an address to fill in your form's dedicated fields, all in real time.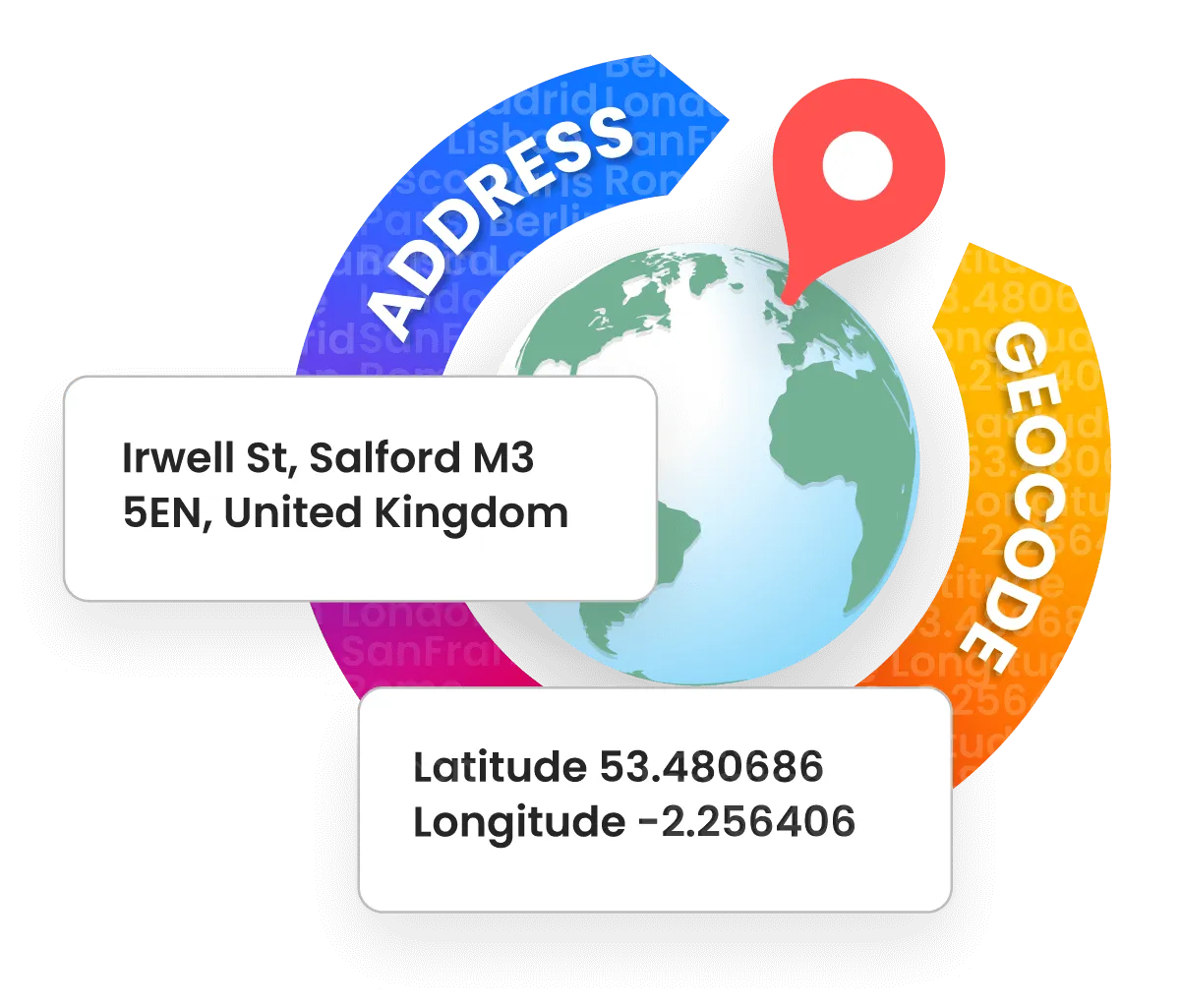 The best data in France and the UK
Woosmap sources the best address data providers (Royal Mail, BAN France) which take the specificities of addresses in these countries into account.  
---
---
Caching policy
Enterprise licences allow caching of latitude and longitude values for 30 consecutive calendar days
---
---
Coverage
400 million addresses in over 243 countries and territories.
---
---
Performance
Hundreds of millions of geocoding requests with response times between 10 and 100 ms.
Geocoding is the conversion from an address to geographical coordinates in latitude and longitude (lat/long).
These coordinates can then be used to map the results, compute distance calculations to find closest locations and even get directions to those locations. For example, King's Cross Station, Euston Rd., London N1C 4TB, United-Kingdom correspond to 51.531761, -0.123621
---
On one hand, Geocoding is something which we use all the time when accessing mapping services. When opening a map application or accessing a visual representation of a location with the "blue dot", this process is called geocoding.
---
On the other hand, when someone is sharing their live location, the blue dot can also be use for reverse geocoding.
---
Note: whether there's a full or partial address, Geocoding API can recognise anything.
What is Reverse Geocoding?
Reverse geocoding, also called reverse address lookup, is geographical coordinates (longitude and latitude) matched with the nearest address (or street). For example, 55.948598, -3.199923 are the geographic data coordinates that will match Edinbrugh Castle, Castlehill, Edinburgh EH1 2NG, United-Kingdom.
Geocoding and reverse geocoding have a worldwide coverage with the exception of the following countries: China mainland, North and South Korea, and Japan.
---
Note: Woosmap provides the best data in France and the UK!
How can I optimise geocoding results?
You can use filters by country or language to get more relevant results.
---
Use the "language" setting to limit the number of results or filter by country (alpha 2/alpha 3 codes are available) to restrict your results to specific areas.
---
Use different parameter to narrow down your results:
Define countries or geographical parameters in your requests to limit results accordingly.
Specify the language parameter to get results in a dedicated language (when available).
Check our documentation to get more details.
Can I perform bulk geocoding (batch process) with your Geocoding API?
Yes, the REST API is designed to support a large volume of requests (possibility to do batches). You can use the API to properly format your clients' address database, for example.
---
If you intend to cache results, please contact us to get details on caching options
There is no billing for each solution, Woosmap operates on subscriptions.
---
Your Woosmap Console account will pool the volume of queries made in all the APIs set up on your platform. The final price will depend on your subscription and the volume of queries available.
---
For each subscription you have access to a certain number of credits. Credits are counted each time a query is made to a Woosmap API. Though, not every query is worth the same, it ranges from 0.1 to 5 credits per query.
---
You can check pricing here.