Success Stories
Wecasa Boosts its Conversion Rate with Woosmap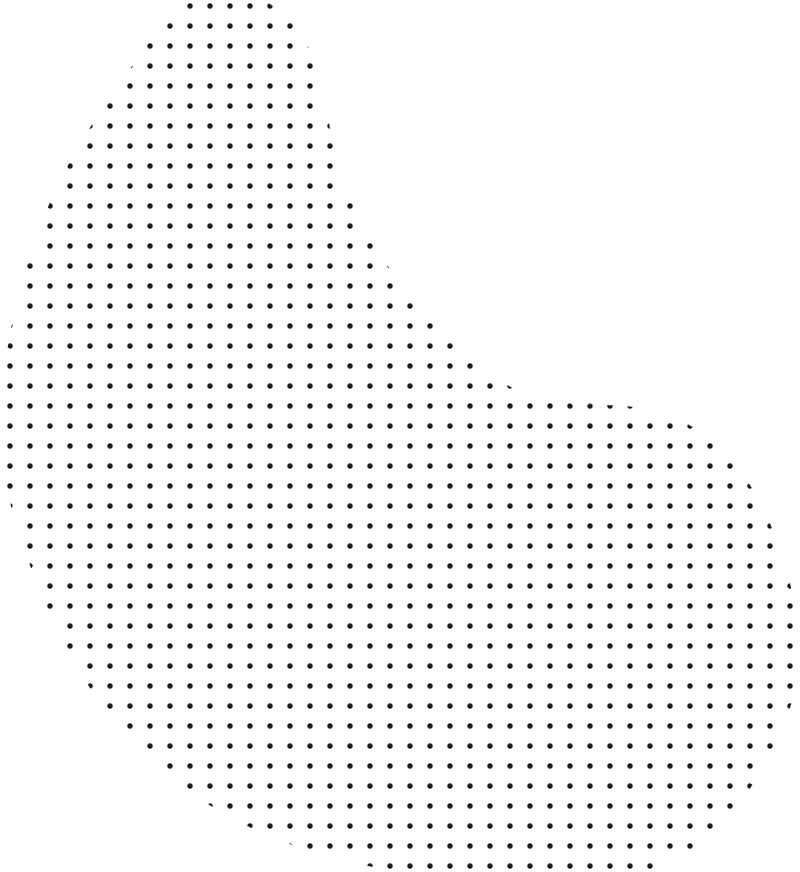 "We did an A/B test on autocompletion with Woosmap. For the United Kingdom, we witnessed a significant difference: +24% increase in overall conversion rate and an impressive +35% for new customers, which is substantial!"

Usage results
-A 24% increase in conversion rate thanks to autocompletion.
- Improved address recognition in the United Kingdom.
- Reduction of location errors, leading to fewer order cancellations.
- Precise geolocation of professionals' service areas on a map.
Wecasa is a platform for anyone seeking home services, including cleaning, childcare, wellness services like beauty, massage, and hairstyling, to name a few.
---
Wecasa is present in two markets: France and the United Kingdom. The platform acts as a marketplace connecting customers with professionals, making it easier to find home services. Since 2016, Wecasa has enabled its customers to reclaim their time, indulge in comfort at home, while also helping over 10,000 independent professionals to make a living of heur work.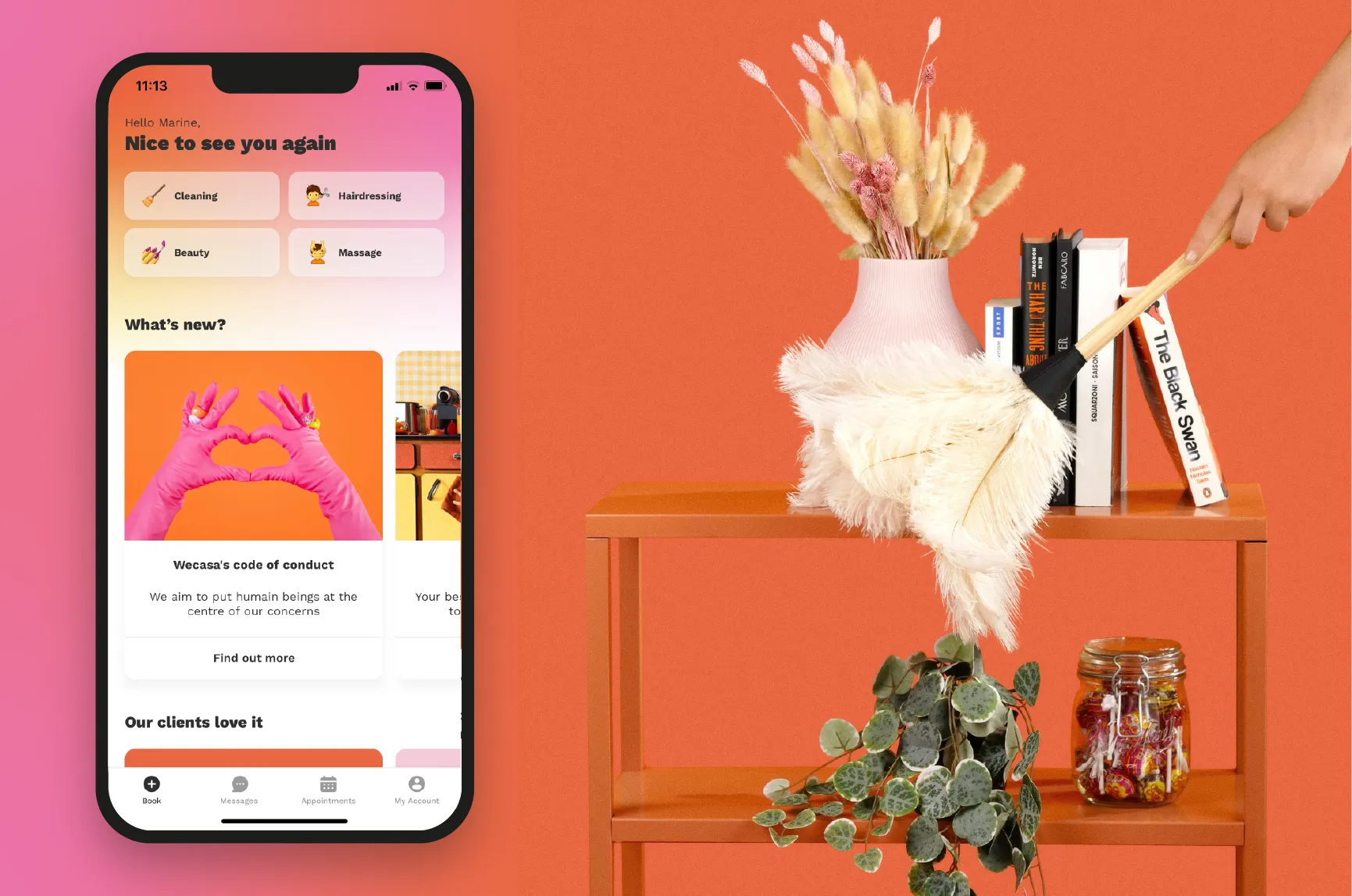 Precise geolocation and profitability challenges in the UK Market
The platform wanted to address two major issues by leveraging Woosmap's solutions. The first challenge was profitability, a concern shared by many businesses, especially over the past year.
The second challenge, more specific to Wecasa's situation, revolved around address recognition. Although the platform was open in both France and the UK, it faced many difficulties in recognizing addresses, particularly in the British market. Thus, Wecasa aimed to improve the profitability of its services and find a more efficient geolocation solution for the United Kingdom.
« There were users who couldn't place orders because their address wasn't recognized. They would enter nearby addresses, and there were many instances where professionals went to the wrong location... Many sessions were canceled because of this. For us, it's really essential to have an address that is as accurate as possible. »
After discovering Woosmap, they decided to give this solution a chance, and the choice proved to be wise, bringing quick results.
A Successful A/B Test
The integration of Localities API and Woosmap Map delivered tangible results for Wecasa. Thanks to an A/B test, they observed a significant increase in their conversion rate in the British market, with a +24% overall rise and a massive 35% increase for new customers. These impressive figures reinforced Wecasa's decision to collaborate with Woosmap to address these issues.
---
For customers, Woosmap significantly improved their experience by enabling them to find the correct address and accelerate registration through autocompletion, simplifying their ordering process. Moreover, thanks to the new Woosmap mapping, the service area of the desired provider is clearly identifiable.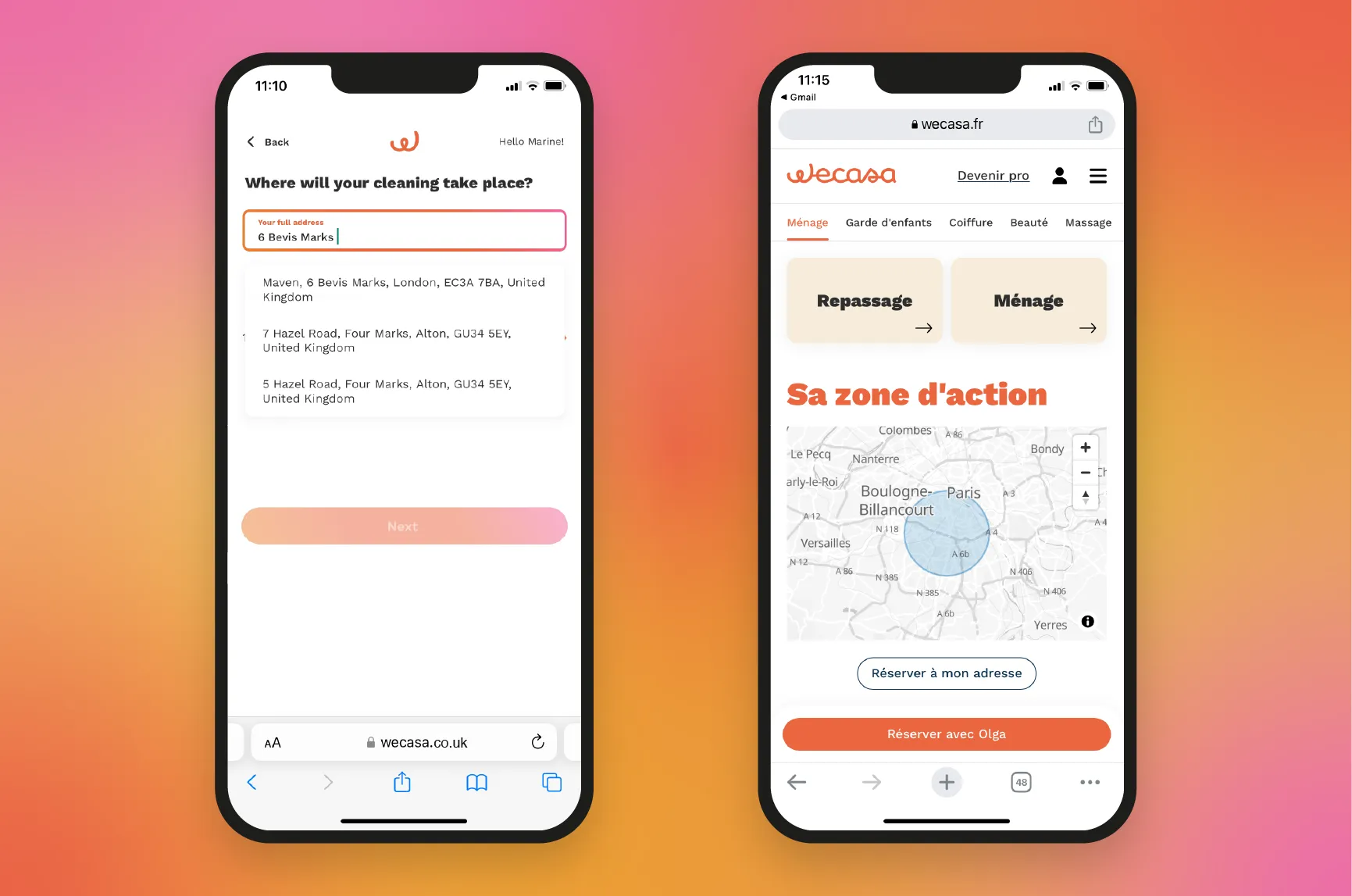 ---
Professionals also benefited from these improvements, as they reduced session cancellations due to incorrect addresses, enhancing their efficiency and profitability.
---
"The collaboration between Wecasa and Woosmap proceeded smoothly. The provided documentation was clear and understandable, facilitating the integration of APIs. Interactions with Woosmap's technical support were efficient, with quick responses to any queries." — Anna-Joy Bernard, Product Manager at Wecasa.
A geolocation-focused future in sight with Woosmap
With all the innovation opportunities related to geolocation tools, Wecasa could consider integrating more geolocation-related solutions in the future. Solutions are already under consideration on the Woosmap side... Stay tuned!
Vous souhaitez tester Woosmap ?