Locator: The Must-Have Geolocation Tool For Growing Your Business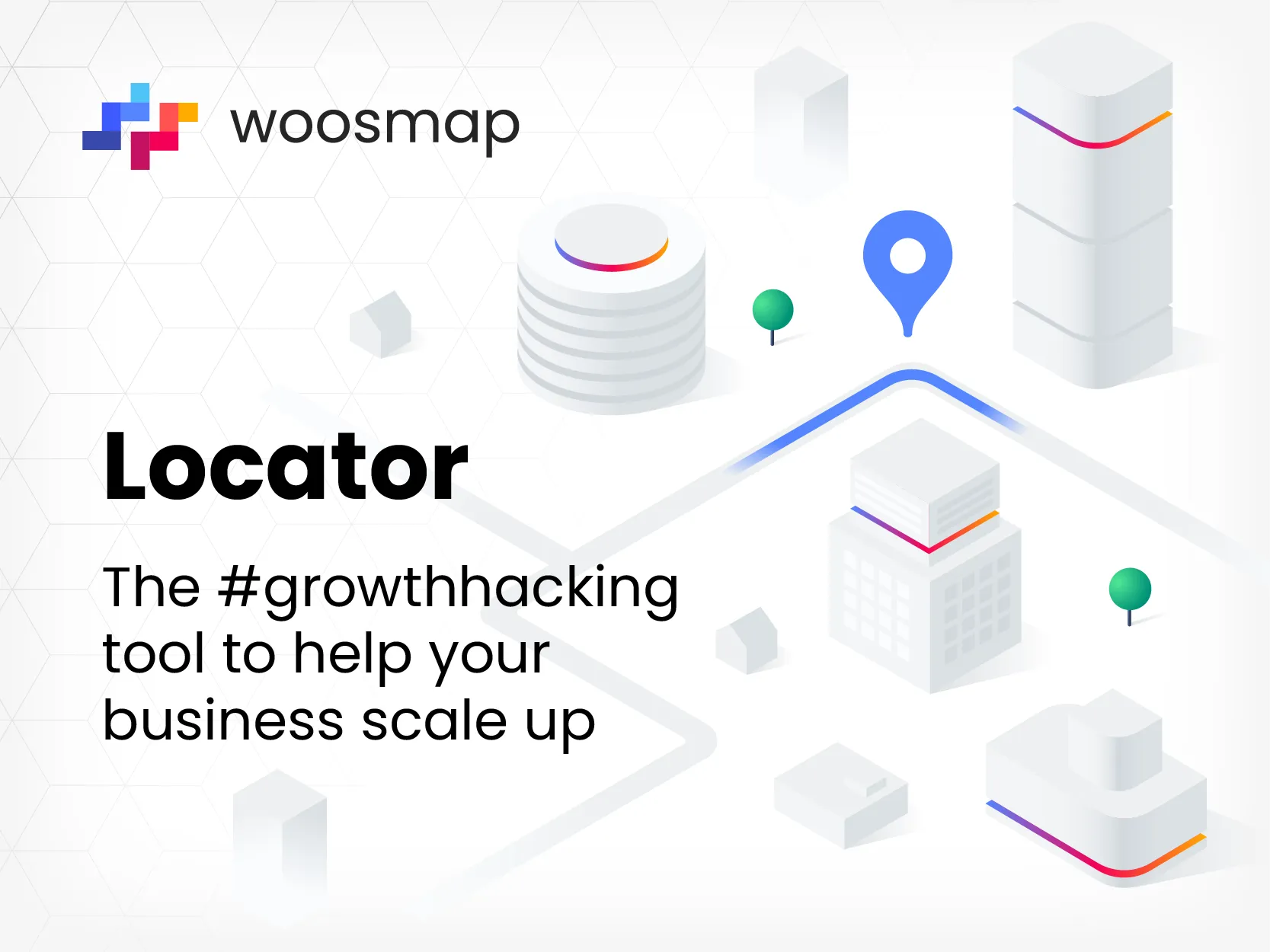 *Ding* Uber Eats: Your delivery driver is heading your way. A smile forms. 

 *Ding* Decathlon: Your order is ready in your store. A second smile. 

As he tucks into the fresh poke bowl delivered to his door for his lunch break, Peter daydreams about the Land Rover he has his eye on. But before buying it, he would like a test drive, so he goes to the brand's website and looks up the location of the nearest dealer with his dream car in stock. There's one between Decathlon and his office. Great! Having saved time and had his life made easier, Peter is one happy consumer.
---
Every day, millions of location data requests are made. Locators – the tools that help us to find the nearest service orproduct to our location – are a part of our day-to-day lives, fulfilling consumers' ever-growing personalisation and customer experience needs. 

When applied to a host of different industries, geolocation is a real growth accelerator, both in the real world and in the digital realm. Wondering how a Locator can be an essential tool for your business? Read on, and you will find out.
---
---
The state of play on today's market 
Before explaining how a Locator can become a key part of your business strategy, let's take a look at its main users: your potential customers, in other words.
 
Millennials and Gen-Z: the leading users
In 2021, Millennials and Gen-Z make up 23% and 26% of the world's population, respectively. By 2030, they will be the 2 biggest consumer groups.

Businesses that want to win their loyalty need to examine their customer experience expectations and needs.

We all know it: these are the digital generations. Young people under 25 attach even more importance to innovation and uniqueness than their predecessors. Having been raised with digital technology, they value a seamless digital journey. 

When it comes to consumption habits, the experience counts just as much as the product or service bought, if not more. Always in a hurry, 25- to 40-year-olds prioritise immediacy. As for the experience, they look for speed, efficiency and ease of access to products, services or general information. 

In a restaurant, for example, service quality is more about how quick the waiting staff are, rather than their friendliness. 

All in all, the consumers of tomorrow are the 'now' generation: they want it all, and they don't want to wait. 
---
Geolocation request numbers soaring
Another major sign of this need for proximity and ease of access is the enormous increase seen in the number of geolocation requests in recent years. 

You can see on the graph below that the number of searches containing the phrase 'near me' has risen steadily since 2015.

Source : Evolution in worldwide interest in the search 'near me'
---
---
---
Users automatically look up where things are in relation to them, whether they are looking for a shop, a product, a service, a restaurant, a hotel, or even a taxi.
---
Here are some of the search trends seen in the UK in 2022:
Source: Google Trend "near me" in the UK for the past 12 months
---
The hybrid journey: an increasingly appealing option
As part of a study, Criteo, the commerce media specialist, asked 1,000 people in France about their consumption habits. 

The report shows that more and more consumers are opting for a hybrid way of shopping, with the BOPIS (buy online, pick up in-store) and ROPO (research online, purchase offline) concepts. 

According to the study, 60% buy online and pick up their order in-store, compared to 55% in 2019, and 77% do their research online before purchasing in their local store, while this figure stood at 72% in 2019. 

Consumers are increasingly comfortable with a customer journey that includes both the advantages of e-commerce (wider choice, easy and quick to compare) and the benefits of an offline experience (opportunity to see and touch the item, special promotions in-store, etc.). 

This hybrid trend is another indication of consumers' desire for instant gratification. Indeed, 4 in 10 consumers name 'the immediate need for a product' (45%) and 'geographical proximity' (43%) as the main reasons for picking up their items in a physical store. 

 Click & Collect and pick-up points are all the rage in e-commerce, especially in a post-Covid era in which health restrictions have shaped new consumer habits. But many other sectors have also decided to offer the best possible 'phygital' experience for their customers.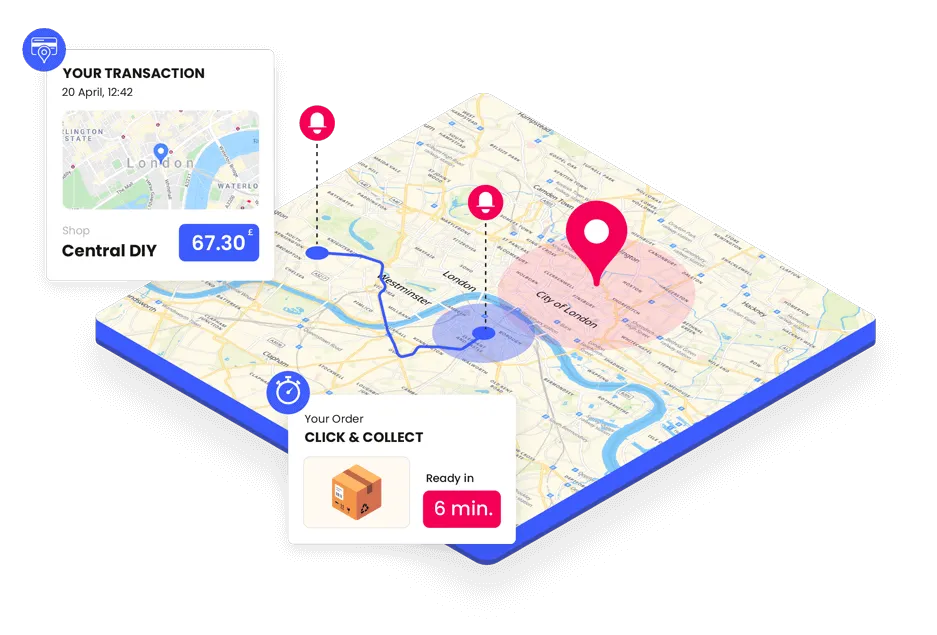 Despite living in an ever more digital world, consumers cite 'the chance to test out the product' as their third main reason for going to a physical store, which they must first locate. Just like Peter, who prefers to test-drive his Land Rover at his nearest dealer before making any decisions.
---
---
Geolocation: meeting consumer expectations
An essential tool in the current climate
This need for physical proximity to businesses intensified during the pandemic. We all searched for things to do or shops open nearby, because restrictions prevented us from going further afield. This would not have been possible without geolocation technology. 

Businesses that already offered this service on their interface had a headstart on their competitors. 
---
At the start of the lockdown, many people's first instinct was to type their postcode into their phone to find their nearest supermarket and information on its opening hours and possible collection options (in-store, kerbside pick-up or home delivery).
---
If, on top of all that, the store had a Product Locator so that consumers could find the last packet of pasta in a two-mile radius, it was sure to delight its customers… and multiply its revenue by twenty quicker than you can say 'Covid'!

Similarly, our client TotalEnergies understood the power of location tools and offered a system for finding your nearest petrol station, while competitors that did not provide this functionality missed a wealth of opportunities during the fuel shortage last October. 
---
An everyday must-have
Today, geolocation technology is part of our everyday lives. It has become an expectation for consumers, who are now well-versed in using these tools. 

Did you know that, in the travel and hospitality sector, 100% of customer journeys begin with a destination search to find the nearest hotel? That might not be surprising today, but it was not the case just a few years ago.

The days when we had to go to a travel agent to book a hotel are long gone. Now, in just a click, we have access to the exact location of our next holiday destination, whether it be by the sea, in the countryside or near a transport hub. In no time, you can get to know the place on an interactive map. 

We could name dozens of examples of businesses that can no longer go without geolocation technology. You have probably used it recently when ordering a taxi via an app that tells you the vehicle's current location and its estimated time of arrival according to the traffic conditions. Or are you one of those people who still hails a taxi from the side of the road? 

Basically, geolocation is everywhere and has become a 'must-have' rather than a 'nice-to-have'.

For all these reasons, today's brands are relying on the latest geolocation innovations. They have seen that, beyond the customer experience, these innovations are unlocking new business potential.

So, what do all these growing businesses that make the most of geolocation have in common? They use a tool called Locator.
---
---
---
What is a Locator? 
Definition of a Locator
A Locator is usually built in to a website or a mobile app, that enables the user to locate a product, service or place on a map.

This tool uses the following three functionalities: 
 
A place search engine (usually with autocomplete): this adapts the results given in accordance with the customer's location.
A distance analysis: this organises results according to the customer's geographical proximity and predicts their estimated arrival time.
A map to display a summary of the results visually.
 
In other words, a Locator is a digitalisation tool for businesses that enables the consumer to see what they are looking for (shop, product, service, location, hotel, job, etc.) in relation to their current location.
 
Locator in different sectors
Over the last ten years, Locators have truly transformed transport, e-commerce and retail. Now, geolocation technology is expanding to all areas of the economy: travel and hospitality, finance and insurance, delivery services, job searches, etc.

To get a better idea of all the opportunities a Locator can offer, let's go back to our friend Peter. 

Having tried out the Land Rover at the dealer he had found near his workplace, Peter ended up changing his mind. He wants an electric car! 

He's even downloaded the Chargemap app to find all the charging stations near him. With the soaring prices of fuel, he reckons he will save some money with an electric car.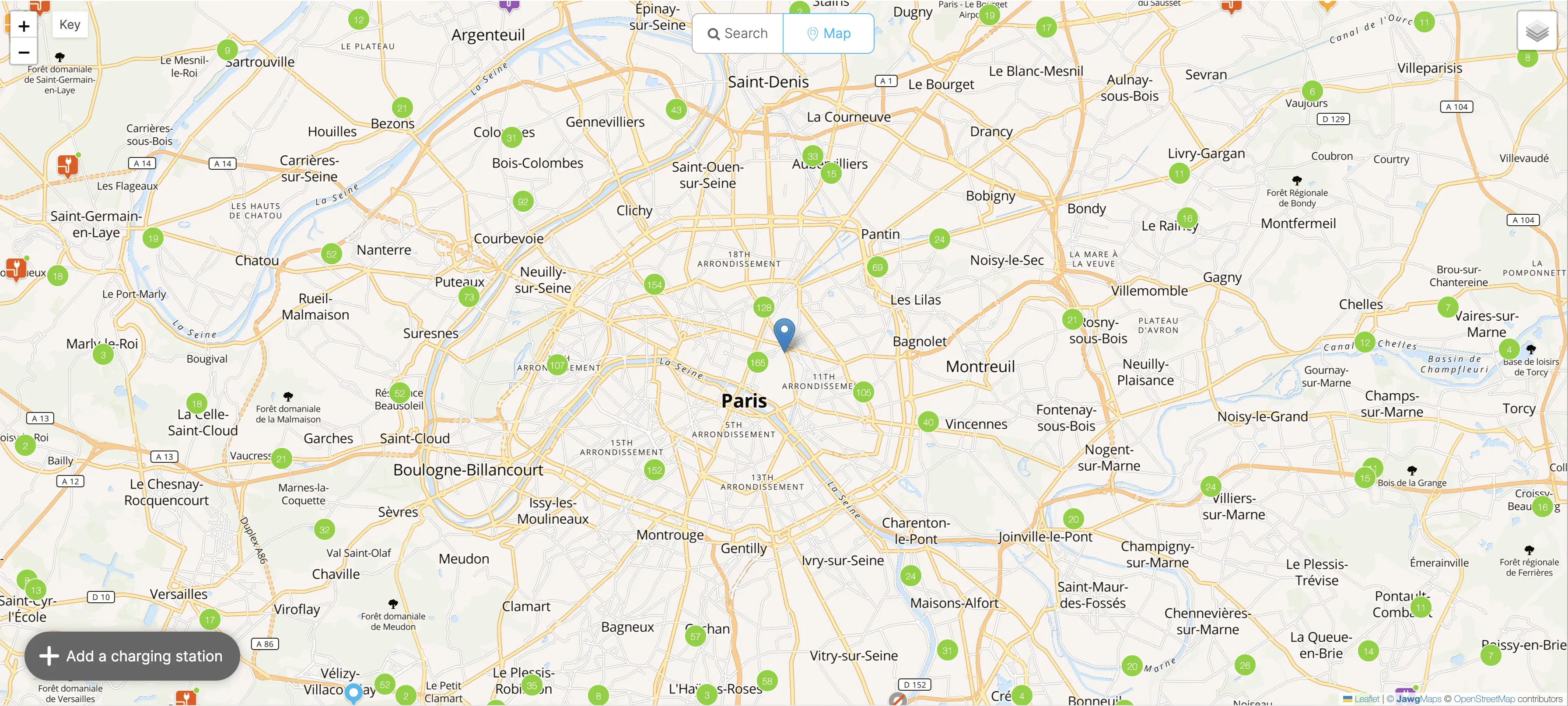 Source: https://chargemap.com/map 
---
---
---
Speaking of savings, Peter has another idea of how he can look after his wallet: pay-per-mile car insurance. He doesn't drive very long distances, so he's better off paying in accordance with how much he really uses his car. For this service to work, the insurer provides Peter with a box equipped with the latest geolocation technology, which will send real-time information on his journeys. 

Now it's time for him to pick up the tennis racket he ordered on the Decathlon website. Peter is a busy man, so he didn't have time to browse the shop's shelves or to wait several days for home delivery. He has an important match tomorrow. With just a click, he ordered his racket, and it's ready an hour later. What a wonderful invention, this Click & Collect! 

The website's Store Locator indicates that the nearest Decathlon is in a shopping centre a few streets away. Peter is not much of a shopper and dreads getting lost in there. Luckily, an Indoor Mapping service will save him time by telling him which entrance and escalator to use to get to the store as quickly as possible.

Back in the office on Monday morning, Peter realises that five years working for a big corporation is enough: he wants to leave the big city and head to the coast. He wants to prioritise his quality of life and enjoy the great outdoors more, which isn't a surprise, coming from a Millennial. So, he looks for any job vacancies relevant to him by the seaside. As the vacancies are indicated on a map thanks to a Job Locator, he can quickly and easily filter the adverts in the areas he fancies.  

A pattern is forming here: every step Peter has taken has required a specific Locator. 

The result for the consumer? Peter's customer experience is impeccable and fluid and fully meets his expectations in terms of speed, efficiency and forward thinking. 

Building a Locator into your business strategy helps the consumer in the decision-making process and saves them time and energy, both precious resources. Don't forget: a satisfied customer is a loyal customer. 

These are just a few examples; there are hundreds of possible ways to use a Locator. So, how can it apply to your industry? Get in touch with our experts: they will be delighted to take a look at your project and find the opportunities for growth and innovation.
---
Discover the Store Locator!
The advantages of a Locator 
Advantages for the business
Meeting customers' personalisation, speed and efficiency expectations.
Improving the customer experience and winning consumers' loyalty.
Adapting the range of products/services according to the customer's location.
Improving existing offers by integrating a Locator that optimises the customer journey and minimises points of friction.
Developing new offers linked to geolocation.
Implementing specific marketing campaigns according to geolocation.
Generating more footfall and digital traffic.
Increasing revenue.
Maximising customer satisfaction.
Offering more value to users.
And then there are specific advantages for each sector. Retail needs are not the same as needs in e-commerce, hospitality, travel, food and drink, transport, etc. That is why we can adapt locator functions to the specific domain and offer a personalised solution.
 
We will take a look at the advantages of locators for different industries in more detail in future articles. 
Advantages for the user 
Simplifying the decision-making process.
Saving time and energy.
Providing a personalised, fluid, pleasant experience.
Limiting environmental impact through Click & Collect.
Saving money.

A Locator is far more than an essential component of a business's digital strategy: it can transform a business model by drastically expanding the realm of what is possible. This tool comes with opportunities to develop what your brand offers and a vast improvement in customer experience.
 
The Woosmap solution 
Who we are
Woosmap is a SaaS geolocation platform for businesses, designed by developers. We are the European leader in geolocation APIs for B2B2C mobile apps and websites: our clients are businesses undergoing their digital transition that work with the general public.

Our team is mainly made up of geographers, cartographers, DevOps engineers and data scientists. Thanks to the combined expertise we have accumulated and the work we have done to improve over more than thirteen years, we have built high-performance tools that help businesses to make the most of geolocation technology.
---
How can we help you?
Our tools – called Locators – can adapt to every sector and fulfil a whole range of needs. 

Mapping, geocoding, distance calculation, maps, mobile location detection, address search engine, store locator, indoor navigation… We can provide all sorts of innovative solutions to enhance your business strategy. 

Want to provide a highly personalised physical and digital experience? We are the 'near me' experts and have developed tailor-made geolocation solutions for your specific needs. 

Whether your goal is to optimise your digital customer journey and conversion rate, to calculate distances from a point of interest, to increase footfall in-store, to guide users inside your premises or to develop geomarketing campaigns, Woosmap has the solution for you! 

Go ahead and get in touch: we will find the most suitable tool for your business. 
---
---
Our added value
Solutions for every budget: Do more for less. With Woosmap, you will find more innovation and deployment opportunities than with any competitor at the same budget. Thanks to our budget-friendly model, you will only pay for what you need.
No user data collection: Information passes through our servers for a few seconds while it is being processed, then it is deleted. Our smart, high-performance tools don't need to gather data. Europe is at the cutting edge in terms of privacy protection, and so are we.
Easy integration: We guarantee solutions that will last through all your developments, with Libs and versionless APIs that are quick to implement and come with plenty of documentation.
An international presence: We support our clients all over Europe and adapt our products to the specificities of their local market. To make our collaboration as close and smooth as possible, we can assist you in English, French, Italian, German, Spanish, Dutch, Mandarin or Hindi.
A customer service team here to help you: Woosmap is committed to being available 99.99% of the time over the course of a calendar month, and our platform is monitored 24/7. As well as providing efficient customer service, we will be at your side to advise you and offer workshops on various Locator development opportunities.
Results that speak for themselve
What better way to tell you about the growth our Locators can ensure for your business than through our success stories? 

 Accor Hotels placed its trust in us and its conversion rate increased by 17%, thanks to a personalised customer journey with Woosmap geolocation services. 

Similarly, the Etam group saw its e-commerce conversion rate rise by 50% following the redesign of its check-out with geolocation features.

Meanwhile,the addition of a Product Locator increased clicks on the 'Add to basket' button by 15%at Boulanger. 

And we mustn't forget Kingfisher: this brand's Click & Collect sales have increased by 217% in 2 years!

For more case studies like this, take a look at what loyal clients like Auchan, Leroy Merlin, Bricocenter, Findomestic (BNP Paribas group) and Greene King have to say.   
---
---
The time for Locators is now
We are currently at a watershed moment: the digital transition has become essential for all businesses, if they want to remain competitive and fulfil customers' needs. 

 Geolocation tools have become a must-have for consumers, who are now well-accustomed to using them, as proven by the growth in the number of 'near me' searches.  

Locators help us to make the best decisions in a physical world where time is the most precious resource and our impact on the planet is a significant cost factor. 

We are witnessing the beginning of a boom in the use of Locators in all sectors. If you want to grab all opportunities with both hands and make your business an endless source of customer satisfaction, it's time to take part in this revolution.

 Get in touch with us, we will answer all your questions.