Geolocation boosts retail in pandemic times. The move to the Low touch economy
---
---
The coronavirus crisis is a world-changing event and among all industries, the retail sector was impacted the most. People's lifestyles became different and all businesses had to respond quickly to the change to survive in such dramatical conditions. The digitalisation of their businesses models oriented on location-based services became essential for survival for some, or unprecedentedly urgent to deploy for others. 
---
In the context of the crisis, Google released a series of COVID-19 Community Mobility Maps, utilising location history data from users around the world to present insights into how people are moving around local communities. With the lockdown measures put in place and social distancing enabled the shown results for retail places were striking, registering for England e.g. -85% people compared to last year's data. As uncertainty of the future rules still, this reveals nothing more than a wake up call for all the players to react fast and orient themselves towards digital shopping and product delivery methods such as click & collect, drive and home delivery services.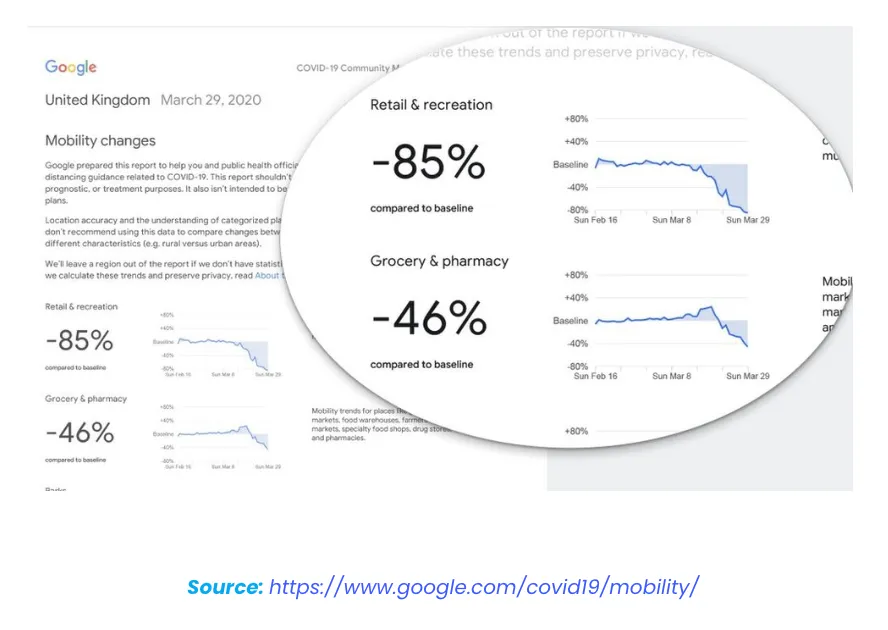 ---
According to McKinsey & Co "even when lockdown restrictions begin to ease, businesses will need to figure out how to operate in new ways. In short, resiliency—the ability to absorb a shock, and to come out of it better than the competition—will be the key to survival and long-term prosperity." As a matter of fact, e-commerce was already going up in the retail industry in the last couple of years, what the coronavirus did was just to accelerate a trend in the shopping habits that was already emerging.
---
Understanding how retail will evolve as we socially distance ourselves can be challenging. Fortunately, observing the past months and identifying the successful patterns can unfold the right strategy to cope with this crisis in real time. As the N°1 Google Maps Premier Partner and a Location Intelligence expert, Web Geo Services highlights key points from its experience of 500+ retailers portfolio around the world.
---
We believe that the following elements are worth to be acknowledged and will be important in the shaping of the "NEXT NORMAL".
---
Key Facts 🌍
According to National Retailers Association and McKinsey & Co reports:
90% of consumers have changed their traditional shopping habits.
In the US, more than 50% of consumers have ordered products online that they would normally purchase at the store.
In Europe, 13% of consumers said in early April that they were planning to browse online e-tailers for the first time. 
In Italy alone, e-commerce transactions have risen 81 % since the end of February.
Nearly 60% consumers say they are worried about going to the store due to fear of being infected
These indicators are pointing out once again the necessity of the digital transformation, in addition to the fact that web journey personalisation will be the key differentiating factor. So far, digital soar becomes absolutely justified and necessary for retailers, however let's have a look at other micro and macro data points.
---
Based on occupation-level statistic estimates, COVID-19 crisis could leave up to 59 million jobs at risk in Europe—a staggering 26 percent of total employment in the 27 member countries of the European Union (EU-27), plus the United Kingdom (EU-28). This will result in a severe loss of purchasing power. To push customers to buy, retailers will have to provide the most remarkable experiences among their peers.
---
On the other hand, businesses that depend on consumer discretionary spending will face uncertain low activity if they will not reinvent their services. Massive discounts are an eliminating decision-making factor for 56% customers but also a solution for retailers to deal with the burdening inventory. For example, Benetton, one of our Italian clients is already preparing to clear old stocks and also perk up consumer sentiments once the lockdown is lifted.
---
This leads us to the third point that we see among our business portfolio: the propensity to cut costs as much as possible. In the future, the entire world economy will face a huge recession and to get back on track, companies will have to make difficult decisions and choices to save their cash flows and recover from the last month's losses. Business models optimisation and reducing operating costs will be asked at each enterprise level.
How Location Intelligence can make a brighter future for Retailers?
In the light of these facts, Woosmap helps its clients to address these business challenges one by one thanks to Location Intelligence. Precise use cases are explained in paragraphs below for web journey personalisation and conversion increase, simplification of the product delivery process, inventory management solutions, in addition to optimising budgets and costs.
---
As stated previously, people will continue to be reluctant to get out of their homes for shopping 'non essential goods' in the next few months. This translates into an emergency for businesses to reorganise their shopping funnels if they did not yet and offer on top of that a seemingless, location-based, personalised experience. This will be a key differentiator, in a context of a customer's weakened purchasing power.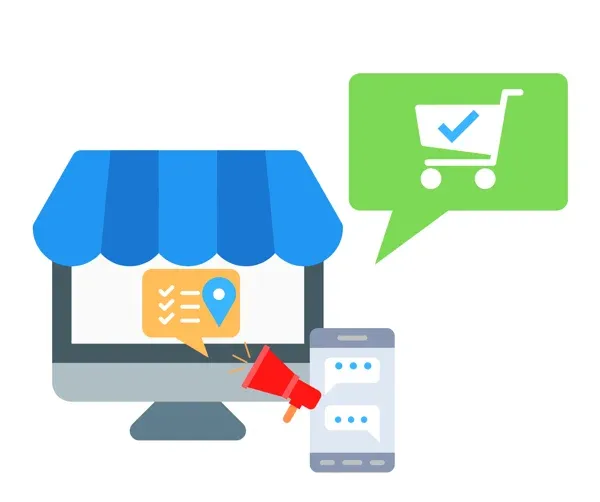 ---
1) From our Retail partner standpoint the success of digital journeys is profoundly shaped by autocompletion, to offer consumers a seamless experience. Nowadays, customers are using improved mobile interfaces, automated lists, simplified replinishements, delivery passes, voice-activated shopping and this highlights the surge of automation. 

During the lockdown, we've noticed an incredible rise of digital shopping and with it, the necessity of solutions such as home delivery, click & collect and drive in services to be put in place. This made it clear that to offer the best customer experience website, location is core.
---
Big retailers from our portfolio like Carrefour, Auchan, Sainsbury's, Corte Ingles and others faced a ten times increase in demand so they needed to act accordingly by allowing extra slots and resources for insuring their omnichannel capacity. Thanks to combining Woosmap & Google Maps autocompletion APIs, all the customers benefited from a simplified store selection connected to the product availability.
---
Our platform time responses to the search queries is superfast even in a period of high peak demand, and allowed retailers also to reduce the waiting time for processing orders and keep customers happy. Our reports show that automating the checkout process by reducing clicks, increased conversion rate simply because customers could focus on real shopping. That comes out as an innovative trick which is easily scalable for our clients.
---
2) When speaking about delivery methods one subject that pops up among our retailers, is also the last mile delivery. The recent ecommerce boost points out that fast, low-cost delivery to the home is no longer just an option – it's essential to survival. From our practice, using modern location-based algorithms that calculate the best combination between the end user, the driver and the available resources, will allow checking all the boxes: customer satisfaction and reduced time and costs.
---
3) Nevertheless, online shopping explosion does not mean the offline exclusion for retailers after the lockdown. A healthy omnichannel ecosystem will converge the operations of their online and offline stores. Many retailers will start to use physical stores as fulfilment centres to offer a more personalised experience, turn inventory over quickly and also cut losses. Modern responsive web store locators are another key differentiator to drive more customers to the shop counter. This is/will be the case of many of our clients like Decathlon, Maisons du Monde, Givenchy and others which operate with hundreds or thousands of points of sales worldwide. Woosmap Store Locator Widget displays all store visit options automatically to allow their customers to decide where to get their products in just a glimpse.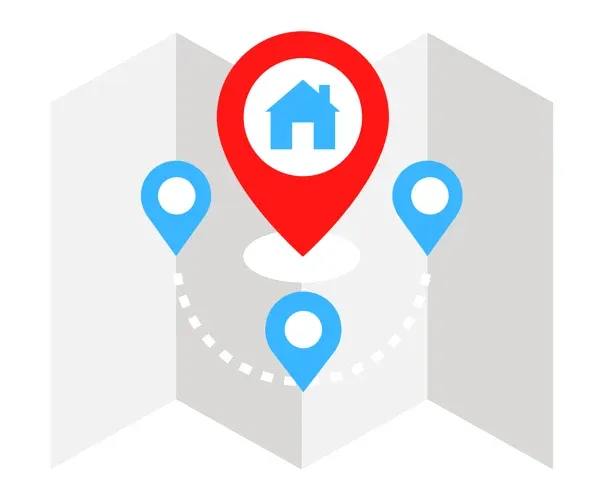 ---
To sum up retail services are dependent for years on location-based services recently though its value started to be perceived differently.  The interest in geolocation capabilities started to grow exponentially not only because of the tremendous importance of the customer journey personalisation but also because of the significant savings for businesses that can be implemented in the entire omnichannel at separate levels. Thanks to our Location Intelligence API and our 20+ expertise in the field we managed to optimise our clients geolocation budgets, capitalising on all the available combinations mentioned above in favor of the customer journey improvement.
---
Retailers location-based services checklist for post lockdown period
Dealing with the coronavirus crisis and its aftermath are top priorities currently discussed by all world retailers. The uncertainty of the economic landscape will force them to embrace the new shopping habits, while adapting to the social distance constraints. At this point in time, we are absolutely positive that Location Intelligence became crucial to keep the retail engine moving and empower it with all the innovation it could provide to make a difference for the customers.
---
Woosmap user experience
---
As Location Intelligence expert specialised in the retail field, for the post lockdown period we recommend considering some check points: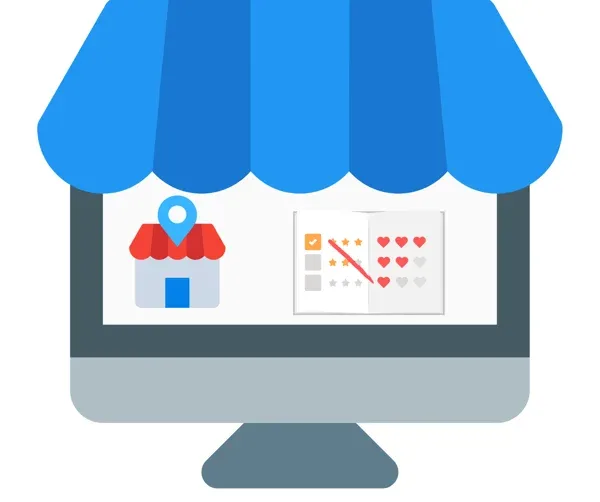 ---
To offer a digital shopping experience:
Provide different product delivery methods: click and collect, drive, and home delivery. 
Use Autocompletion techniques to automate and smoothen the checkout process.
Adapt services according to customers location at different levels: product communication and proximity tothe points of sales or inventory.
To optimise costs:
Rely and assess the location-based services and itspossibilities to help you leverage your spent budget.
Finally, the retail world will be different then we saw it before. However, if deploying already tested Location Intelligence practices, brands will be able to recover fast and also meet customers expectations according to the new buying patterns. A silver lining will be seen just by the most agile retailers that will treat the new era as an opportunity.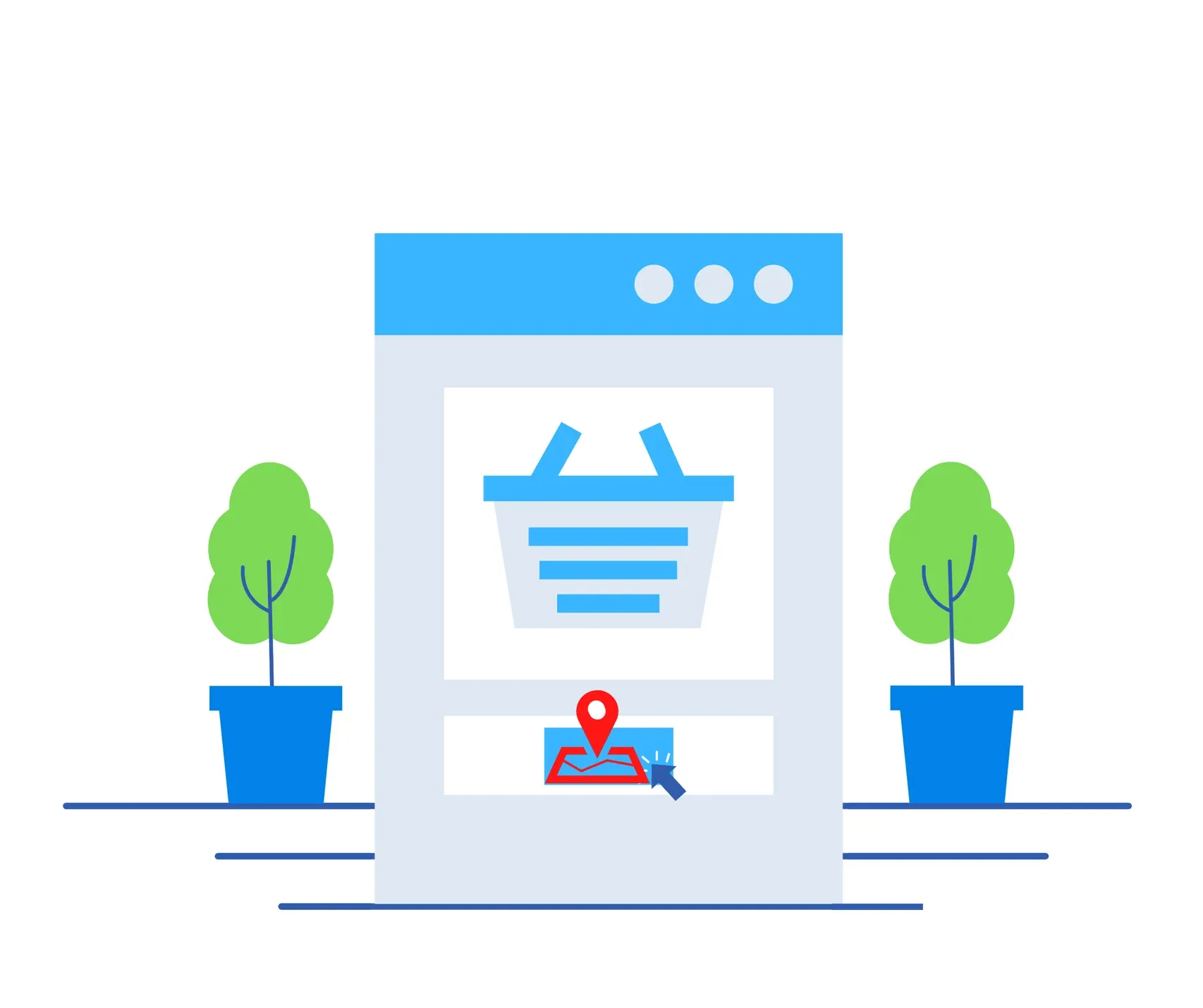 ---
---
Interested in more best practices how Location Intelligence can boost your business model? Let us know, our experts would be glad to have a look at your digital strategy and give you a piece of free advice!